Bio For Kamil Celoch, M.A., M.S.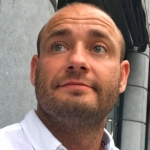 Kamil's interdisciplinary educational background spans 4 EU countries, and includes a European Commission co-funded MA degree and an Advanced MS from Jean Monnet Centre of Excellence at Vrije Universiteit Brussel. Based in the heart of Europe, Kamil was the first sports performance coach in Belgium to earn the Certified Physical Preparation Specialist (CPPS) qualification (hosted at the WWE Performance Centre, Orlando, FL). He is also a Certified Nutritionist (CISSN) of the International Society of Sports Nutrition and serves as a peer reviewer for the Journal of the International Society of Sports Nurition.
A sports neuroscience aficionado, Kamil runs KC-performance.com where he champions evidence and research-based practices, in particular as they pertain to cognitive and athletic performance. His keen interest in the neurobiological processes underpinning motivation saw him speak at conferences on both sides of the Atlantic.
In his previous life, Kamil enjoyed a diverse career spanning foreign affairs, conference interpreting and digital media. In 2017 and 2018, he won the national championship of the Belgian American Football League (BAFL Elite Division) with Brussels Black Angels.